Fracking in America generated 280bn US gallons of toxic waste water last year – enough to flood all of Washington DC beneath a 22ft deep toxic lagoon, a new report out on Thursday found.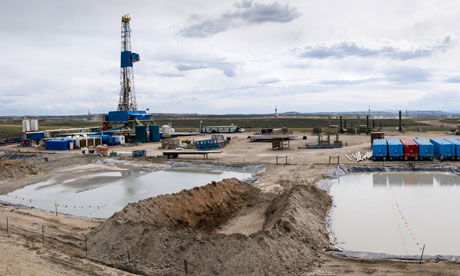 The report from campaign group Environment America
said America's transformation into an energy superpower was exacting growing costs on the environment.
"Our analysis shows that damage from fracking is widespread and occurs on a scale unimagined just a few years ago," the report, Fracking by the Numbers, said.
The full extent of the damage posed by fracking to air and water quality had yet to emerge, the report said.
But it concluded: "Even the limited data that are currently available, however, paint an increasingly clear picture of the damage that fracking has done to our environment and health."
There have been instances of contaminated wells and streams, as well as evidence of methane releases along the production chain.
Another growing area of concern is the safe disposal of the billions of gallons of waste water that are returned to the surface along with oil and gas when walls are fracked.
The authors said they relied on data from industry and state environmental regulators to compile their report.
More than 80,000 wells have been drilled or permitted in 17 states since 2005.  It can take 2m to 9m gallons of water mixed with sand and chemicals to frack a single well. 
Mmm – Makes you wonder if clean renewable energy would not be a better thing to invest in…..